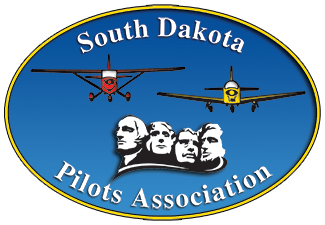 What's New
Thursday, October 31st, 2019
We have updated the SDPA web site AGAIN! If you have not visited the web site in a while, here's what's new as of October 31, 2019
Join page: added names of 13 new LifeTime members.
Events page: added events on a weekly basis.
Meetings page: added recent meetings.
GA Promotion page: added information on three recent displays and three letters / emails / calls.
FLY SD page: added one person to the Bronze Award list and one to the Silver Award list.
Scholarships page: updated SDPA Aviation Maintenance Technology Scholarship information.
SD Aviation Hall of Fame page: added three inductees to the SDAHF and four inductees to the Combat Air Crew Memorial.
Masters page: added four new Master Pilots.
Other Av. Organizations page: updated SD Civil Air Patrol information.
We are currently gathering information for the next web site update. If you become aware of missing, erroneous, or outdated information on the SDPA web site, contact Steve Hamilton at
605-665-8448
or
skyhawk43v@gmail.com
SDPA