South Dakota Aviation Art Contest
The SD Office of Air, Rail & Transit and South Dakota Pilots Association are sponsors of the annual South Dakota Aviation Art Contest for children aged 6 to 17. The contest has been held in South Dakota in past years, but has not been widely publicized in the past. Soooooo, tell your kids, your grandkids, your neighbor kids, and school teachers!!

Each year a different theme is selected for the Art Contest. More information about the contest can be found at the SD Office of Air, Rail & Transit website: https://dot.sd.gov/transportation/aviation/aerospace-education. This website also has images of the top three South Dakota winners in each age category for past years.
Theme
The theme of the 2021 Aviation Art Contest is "A Friendlier World with Air Sports."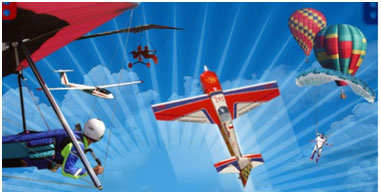 When we think of aviation, our first thoughts go to the sky. We imagine what it would be like soaring through the air in a glider, floating across the sky in a hot air balloon, or maybe even twisting and looping through clouds in an aerobatic plane. While being in the sky is glamorous, it is only part of the adventure. Every journey begins on the ground with a team of people working together to make something happen.

Working together, a group of aviation enthusiasts can accomplish what one person alone never could. The friendships created in this process are one of the things that keep people coming back to air sports again and again. The friends that meet to hang glide share laughs on cliff sides around the world. Hot air balloonists enjoy meals with the crew of the chase vehicle after a flight across the countryside. Air shows, of course, offer it all. Everyone is invited to share in the joy that sport aviation produces. Pilots love talking about their planes, ground crews share the work required to keep everything safe and in top shape. The chance to take a ride is irresistible to some, while others enjoy eating tasty food and watching the show overhead. A single parachutist in the sky can hold the attention of hundreds of people below. When the day's adventure is over, both participants and spectators leave with new friends, as well as stories to share among themselves and others.

Air sports brings people together and creates friendships that connect people from all over the world and of all ages. Now it's your turn to grab your favorite art supplies and create an artwork that captures the friendlier world that comes from people meeting and sharing their love of sport aviation.

It is time to get out your favorite artist supplies and give free rein to your imagination to create your work that combines the flights of the past with the dreams of the future in this year's "A Friendlier World with Air Sports" art contest.
Contest Information
This Year's Deadline:
Entries must be postmarked by January 19, 2021, and must be sent to the SD Office of Air, Rail & Transit (700 East Broadway Avenue, Pierre, SD 57501-2586).
This Year's Theme:
This year's theme is "A Friendlier World with Air Sports". Artwork will be judged, at least in part, for its creative use of this year's theme in relation to the aviation world.
Eligibility:
All children in the age groups shown below are encouraged to participate in the Contest, even if they are related to officials or employees of the FAI or any of its member organizations including the SD Office of Air, Rail & Transit.
Age Groups:
Entries will be judged in three classes:
Group I – Junior Category

Date of birth between January 1, 2011 and December 31, 2014.

Group II – Intermediate Category

Date of birth between January 1, 2007 and December 31, 2010.

Group III – Senior Category

Date of birth between January 1, 2003 and December 31, 2006.
State Awards:
Entries in each age group will be judged and state winners and runners-up will be selected (typically Jennifer Boehm, SD Department of Transportation, is the contest judge). Winners will receive a first, second, or third place certificate and recognition from the SD Office of Air, Rail & Transit. The SD Office of Air, Rail & Transit and the SDPA also give winners either art supplies, or aviation-related items such as model rockets or model airplanes (Legos kits that can be made into airplanes for the younger kids). The top three winners in each age category will be published in the SDPA newsletter & SDPA website and presented on the SD Office of Air, Rail & Transit website. The top three entries in each age group from South Dakota will be forwarded to the National Contest, to participate in the national competition.
National Awards:
A first, second, and third place national winner will be selected from each age group from state submissions. Only art works submitted from the State level will be eligible for the National Contest. Please do not submit art directly to NASAO. All national winners will receive a certificate, ribbon, and a framed reproduction of their artwork.
International Awards:
The first, second, and third place national winners in each age group will be forwarded to FAI (Federation Aeronautique Internationale) headquarters for international judging. Winners of the international competition will receive certificates and gold, silver, or bronze medals.
Contest Rules
Artwork Dimensions:
Artwork size should be 11x17 inches (Ledger/Tabloid), 8.5x11 inches entries are NOT eligible. Artwork must NOT be framed, or outlined with borders.
Medium:
All artwork must be done by hand (or, in the case of physically challenged children, by foot or mouth). Any of the following media are permitted: acrylic, oil paints, watercolor, indelible markers, felt-tip pens, soft ball-point pens, indelible ink, Crayola, or any similar indelible medium. The following media are NOT permitted: nonpermanent medium such as pencil or charcoal; computer-generated artwork; collage work involving the use of photocopies.
Markings:
The following information should be clearly shown on the back of the art: first and last name, mailing address, date of birth, name and address of child's school, and certificate of authenticity. (This certificate is part of the Contest Brochure – obtainable from Jennifer Boehm). There is no need for a title on the poster and entrants can decide for themselves whether or not to include one. However, there should be a clearly recognizable link to the theme of the contest.
Reproduction Rights:
Once received, entries will become and remain the property of the Fédération Aeronautique Internationale or SD Office of Air, Rail & Transit and may be used for a variety of purposes.
Sponsors
The SD Aviation Art Contest is sponsored by the South Dakota Department of Transportation and the South Dakota Pilots Association. For more information and a copy of the official brochure containing the Certificate of Authenticity, contact Jennifer Boehm at the SD Office of Air, Rail & Transit, Pierre, SD (phone 605-773-4430 or email jennifer.boehm@state.sd.us).
2021 SD Aviation Art Contest Winners
The theme of the 2021 SD Aviation Art Contest was "A Friendlier World with Air Sports." There were submissions for the Contest from 10 schools. There were 35 submissions in the 6-9 year old group, 47 submissions in the 10-13 year old group, and 7 submissions in the 14-17 year old group – for a total of 89 submissions. The SDPA provided $250 for the first place winners, and advertised the contest in the Nov-Dec 2020 and Jan-Feb 2021 SDPA newsletters, and in the January newsletter of the Yankton Regional Aviation Association. A news release sent to 37 SD media outlets and a poster to 48 airports.
Click here for winners.