SDPA Meetings
The South Dakota Pilots Association holds Meetings typically the month before the newsletter is published. SDPA Meetings are opportunities for pilots to fly to an airport away from home and participate in a discussion of aviation issues in South Dakota and activities to promote general aviation in South Dakota.
For future SDPA Meetings – check the What's New Page.
Jun 8, 2013
Meeting (Winner)
Joie's Café
Apr 13, 2013
Meeting (Clark)
Airport / Hilltop Aerial, Inc.
Feb 9, 2013
Meeting (Oacoma)
Al's Oasis
Nov 10, 2012
Meeting (Philip)
Rock'n Roll Bowling Alley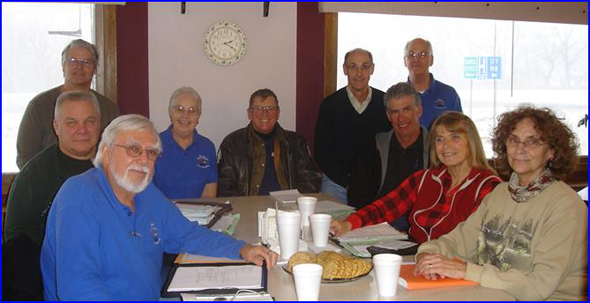 SDPA Meeting in Philip, SD, on November 10, 2012:(left to right) Tim Modde (back), Dwayne LaFave, John Barney, Marsha Sumpter, Lee Vaughan, Jr., George Bittner, Vernon Vandermay, Steve Hamilton, Sunny Stephens, and Dianna Torson.
Sep 8, 2012
Meeting (Spearfish)
SD Aviation Hall of Fame(Black Hills Aero)
May 12, 2012
Meeting (Aberdeen)
Ramada Inn
Mar 10, 2012
Meeting (Oacoma)
Al's Oasis
Nov 12, 2011
Meeting (DeSmet)
Oxbow Café (Intersection of Highway 14 & Main)
Aug 27, 2011
Meeting (Spearfish)
SD Aviation Hall of Fame (BlackHills Aero)
Jun 25, 2011
Meeting (Hot Springs)
Woolly's Restaurant