SDPA Meetings
The South Dakota Pilots Association holds Meetings typically the month before the newsletter is published. SDPA Meetings are opportunities for pilots to fly to an airport away from home and participate in a discussion of aviation issues in South Dakota and activities to promote general aviation in South Dakota.
For future SDPA Meetings – check the What's New Page.
Nov 6, 2004
Meeting (Gettysburg)
Medicine Rock Café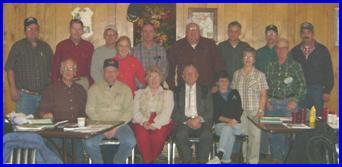 SDPA Meeting on 11/6/2004 in Gettysburg. Seated(left to right) Steve Hamilton, Jeff Jackson, Norma Kraemer, L.A. Vern Kraemer,Pam Hamilton; standing (left to right) Dwight Pladsen, Grove Rathbun, BarryBibler, Marsha Sumpter, Alfred Nagel, Bobbie Potts, Craig Michelson, Mary CarolPotts, Rick Jordan, Merle Vig, Mike Lehrkamp.
Sep 11, 2004
Fly SD (10th) (2 SD stops)
Spearfish (SD Aviation Hall ofFame: BlackHills Aero)
Jul 10, 2004
SDAHF (Spearfish)
Black Hills Aero, limited attendance to talk about SDPA helping / collaborating with the South Dakota Aviation Hall of Fame
Jun 5, 2004
Meeting (Hot Springs)
One-Eyed Jacks Grill
Apr 3, 2004
Meeting (Wessington Springs)
Springs Inn
Jan 31, 2004
Meeting (Flandreau)
Royal River Casino
Aug 16, 2003
Fly SD (9th) (2 SD stops)
Spearfish (SD Aviation Hall ofFame: BlackHills Aero)
Jun 7, 2003
Meeting (Belle Fourche)
Airport Terminal
Apr 5, 2003
Meeting (Aberdeen)
Aberdeen Flying Service
Jan 18, 2003
Meeting (Gettysburg)
Medicine Rock Café