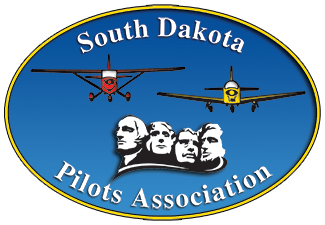 What's New
Thursday, April 20th, 2023
We updated our new website on April 20, 2023. Here are the updates:

Join page: Added updated membership applications for general membership, new pilots, and new mechanic, and four new Lifetime Members: Kerry Berg (Sioux Falls): February 2023; Carter Gilk (Sioux Falls): March 2023; Dan Renner (Crooks): January 2023; Dustin Smith (Presho): April 2023.

Aviation Art Contest page: Updated information about 2023 contest and added winners artwork page.

ACE Camp page: Added note that ACE Camp at SDSU has been discontinued.

Airports Awarded page: Add winners of the Best Maintained Airport Awards for 2022 and two photos of recipients.

GA Promotion page: Added eight items to the section on Letters, Alerts, Calls, Meetings, etc section.

FLY SD Airports Passport page: Added new recipients for the Bronze Award: Greg Clabots (Green Bay, WI); Marguerite Kaleda (Rapid City); Silver Award: Greg Clabots (Green Bay, WI); Gold Award: Greg Clabots (Green Bay, WI); and photos of Gold Award winners Greg Malkowsky and Greg Clabots.

Meetings page: Added photos of speaker at meeting on February 11 (Brian Brost) and recipients of service awards (Mary Carol & Bobbie Potts).

Aviation Hall of Fame page: Added comment about the status of the SDAHF and link to the South Dakota Aviation Hall of Fame Facebook page.

Merchandise page: Added updated merchandise order form and photo of new blue caps.